Permian Basin Production is Ramping Up
May 6, 2019
By: G. Cook Jordan, Jr. and C. Hutch Greaves
Takeaway: The Permian Basin is ramping up production and is forecasted to produce more oil than every OPEC nation except Saudi Arabia by 2023.
The U.S. has ridden the shale boom to the top of the global oil production landscape. The Permian Basin of West Texas and Southeast New Mexico is the hottest oilfield on earth, a testament to just how far the domestic energy industry has come since the hardships that defined the mid-2000s.  In 2005, domestic oil and gas production had been in decline for 35 consecutive years, leaving total U.S. oil production at a meager 5.2 million barrels per day (bpd).(1) At this time, the U.S had little control over an ever-dwindling supply of the economy's lifeblood, the bulk of which resided in the hands of foreign counterparts whose interests were misaligned with the U.S.
Turn the page to today, and the U.S. is the world's leading oil producer mainly due to the shale revolution.(2)  At the heart of this revolution is the shale-rich Permian Basin, one of the areas of new oil discoveries and increased production in the U.S. Last year, IHS Markit forecast that by 2023, total oil production in the region will reach 5.4 million bpd and the Permian Basin alone will produce more oil than every OPEC nation except Saudi Arabia.(3) An estimated $308 billion in upstream spending and 41,000 new wells are expected to drive this growth, which could account for up to 60% of the growth in total global production between 2018 and 2023.(3) In the past 24 months ending March 2019, production in the Permian Basin has increased almost 85% to 4.1 million barrels of oil per day.(4) While the region's ability to maintain such growth through 2023 is subject to many factors, it is evident that production is accelerating. Production of both natural gas and natural gas liquids (NGLs) in the Permian Basin are also expected to double between 2018 and 2023, reaching 15 billion cubic feet per day and 1.7 million bpd, respectively.(3)
Life on the ground in the Permian Basin has been quite aptly described by The Wall Street Journal (WSJ) as a "fracking-related gold rush," a place where barbers can make up to $180,000 per year cutting weather-trodden scalps, and the only bar in town with a patio can book tables for $6,000.(5) The Permian Basin is a Big Oil playground, dominated by the industry's largest companies. Two such companies, Chevron Corporation and ExxonMobil, recently published production forecasts which highlight their intent in the region. After doubling production from the region in 2018, ExxonMobil expects to produce 1 million bpd in the Permian Basin by 2024.(6)  In the next five years, Chevron plans to more than double its production in the Permian Basin to 900,000 barrels of oil a day.(7)
Smaller independent companies that pioneered the shale boom are losing ground to Big Oil. The figures above underline an industry-old trend which has now manifested in the shale game. In the face of challenge, small exploration companies engineer new ways to produce hydrocarbons, ultimately paving the way for Big Oil to move in. Equipped with new production techniques and economies of scale, Big Oil is capable of capturing the profitability that eludes smaller independent producers.(7)
Per Chevron's CEO Mike Wirth, "At times, we were criticized for not going faster. We were steadily building up the knowledge to do this well, not to do it fast."(7) Scale provides numerous benefits that allow Big Oil the advantage of profitable exploration and production in a relatively low oil price environment. Sheer size allows them to hedge a smaller proportion of their overall production relative to independents, thereby enhancing the returns of large players when prices jump. Scale also allows larger producers to avoid pipeline bottlenecks connected to key acreage which forces smaller companies to market its production at discounted prices. To highlight the leverage held by Chevron and ExxonMobil, the current land positions held by these two producers are larger in size than Rhode Island or Yosemite National Park.(7)
As the larger producers continue their shale expansion, many have gained favor with investors – in the past year Chevron's stock price has increased 14% and all of the largest oil companies have outperformed the S&P 500 even though crude prices have declined. With oil prices below $60 per barrel, margins are simply too narrow for independent producers to consistently compete with the big players.(8) As the WSJ notes, "…[at today's prices], even a modest increase in the cost of borrowing is enough to wipe out any potential profits this year for some companies."(9) 
Big Oil's competition, small and independent operators ("wildcatters"), face contrasting prospects. These wildcatters, who leveraged low interest rates after the Great Recession to pioneer the very technologies that catalyzed the shale boom, have been collectively losing money for nearly a decade. Per figures from Dealogic, the combined value of debt and equity issuances to shale companies has fallen nearly 60% over the last two years, from $56.9 billion in 2016 to $22.8 billion in 2018.(9) In addition, spending amongst smaller companies is poised to fall 11% in 2019.(7)
While smaller companies grapple with margins, it is clear that Big Oil has no plans to take its foot off the gas in the Permian Basin. In the ten months since IHS Markit predicted Permian Basin production of 5.4 million bpd by 2023, production has already increased 25%, and the industry is eyeing another milestone. Per CNN Business, the U.S. is set to surpass Saudi Arabia as the world's leading exporter of oil, natural gas liquids, and petroleum products later this year.(10) This has important national security implications. As the U.S. will continue to import oil to power its economy, it is no longer as beholden to foreign oil as it once was.
Top 10 Shale Portfolios by Value ($ Billions)
As of March 4, 2019
Source: The Wall Street Journal / Rystad Energy.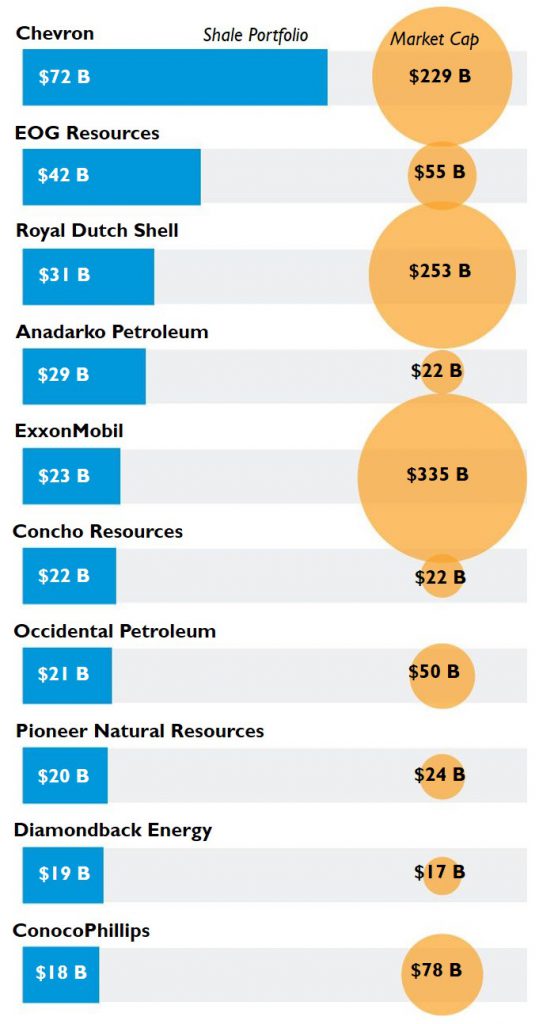 1) Forbes, "How The Shale Boom Turned The World Upside Down," April 21, 2017.
2) U.S. Energy Information Administration, "The United States is Now the Largest Global Crude Oil Producer," September 12, 2018.
3) IHS Markit Outlook, "'Stunning' Permian Basin Oil Production to More than Double from 2017-2023, Exceeding Expectations," June 13, 2018.
4) U.S. Energy Information Administration, "Drilling Activity Report," March 2019.
5) The Wall Street Journal, "In This Oil Boom Town, Even a Barber Can Make $180,000," March 1, 2019.
6) ExxonMobil, "ExxonMobil to Increase, Accelerate Permian Output to 1 Million Barrels per Day by 2024," March 5, 2019.
7) The Wall Street Journal, "Chevron, ExxonMobil Tighten Their Grip on Fracking," March 5, 2019.
8) The Wall Street Journal, "Oil Giants Start to Dominate U.S. Shale Boom," November 15, 2018.
9) The Wall Street Journal, "Frackers Face Harsh Reality as Wall Street Backs Away," February 24, 2019.
10) CNN Business, "America is Set to Surpass Saudi Arabia in a 'Remarkable' Oil Milestone," March 21, 2019.