What is a Hot Topic?
A Hot Topic is an important piece of information or a current news event related to the general U.S. economy or a specific industry. If you would like to submit something for consideration, please email Lori Callaway, Vice President of Research and Publications.
How Much Oil Will the World Need by 2050?
August 9, 2023
By: G. Cook Jordan, Jr. and Lori A. Callaway
Global oil markets are slowly recovering after three turbulent years in which they were upended first by the COVID-19 pandemic and then by Russia's invasion of Ukraine. Global oil demand is projected to climb by 2.2 million barrels per day (b/d) this year to reach a new record of 102.1 million b/d. Growth will slow to 1.1 million b/d in 2024 as macroeconomic headwinds are seen in a deepening manufacturing slump.1 Due to surging petrochemical use, China will account for 70% of global demand gains, while demand remains slow in the 37 economies that make up the Organization for Economic Co-operation and Development (OECD).
But what will the world's energy consumption look like in 2050? Economic growth remains a key driver for energy demand, along with technological developments, climate policy and geopolitics. Geopolitical tensions in the wake of the Russian invasion of Ukraine could lead to long lasting effects on economic development and government policy, especially in the European Union, the former republics of the Soviet Union (Commonwealth of Independent States) and China. Within energy circles, estimates of how much oil will be needed in 2050 range anywhere from 80% less than today to business as usual.
Most major U.S. oil companies are in the "high demand" camp, according to a report from the energy consulting firm WK Associates that compiled 2050 oil forecasts. ExxonMobil Corporation expects global oil demand to still be roughly 100 million b/d by 2050 and is speculating that technologies such as carbon capture and storage, as well as methane abatement, will allow the world to use fossil fuels for decades.2 
S&P Global Commodity Insights believes global demand for oil will peak around 2031. But instead of declining, they predict demand for oil will more likely stay close to peak levels for years, maybe decades (see the chart below).3 By 2050, oil demand will be about where it is today.
Forecasted Oil Production Through 20403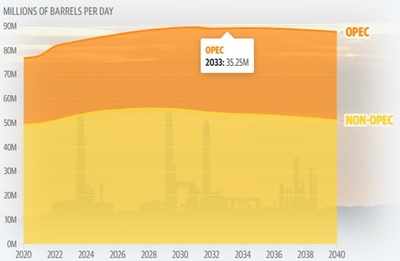 The 2023 Annual Energy Outlook report from the U.S. Energy Information Administration (EIA) predicts that U.S. oil production may even increase between now and 2050 even as clean energy sources like wind and solar power increase dramatically as well. The report says that U.S. demand for oil and gas is likely to remain remarkably steady for decades and also expects U.S. oil production to remain at historically high volumes as exports of finished products increase. In addition, the U.S. is expected to remain a net exporter of petroleum products and natural gas through 2050.3 The report follows the Biden administration's approval of the ConocoPhillips's Willow drilling project in Alaska which will produce new oil for years.
The Organization of Petroleum Exporting Countries (OPEC) forecasts that global demand for oil will hit 110 million barrels a day by 2045 (as far out as OPEC currently projects). This is roughly a 10% increase from current rates. Natural gas, renewable power and hydrogen will all play bigger roles, but oil will remain at the center.2
It is a different story in Europe where Shell, BP and TotalEnergies are under pressure from investors to address climate change. Even with no new climate policies, Shell's latest energy security report shows that demand for oil will fall around 10% by the middle of the century. And it sees a sharper drop if world governments get serious about reducing emissions.2 
BP looked at three "what if" scenarios, and estimates that oil production would decline by roughly 25% based on trends it is already seeing in the market, or close to 60% in its "accelerated" scenario in which climate regulations get tighter.2 The share of fossil fuels as a primary energy source will fall from 80% in 2019 to between 55% and 20% by 2050, according to BP's report. Renewables' share will grow from 10% to between 35% and 65% over the same time period.4 The scenarios are based on existing technologies and do not consider the possible impact of entirely new or unknown technologies. But neither European entity is seriously preparing for these challenging outcomes. Both Shell and BP recently reversed plans to cut oil production aggressively this decade.
Fossil Fuels' Share of Primary Energy4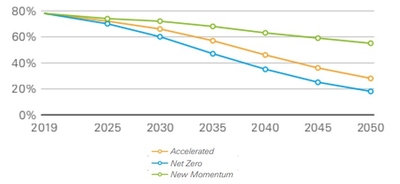 According to the International Energy Agency (IEA), rising demand for crude oil is set to slow to a trickle within five years and peak before the end of the decade, as electric vehicle adoption surges and developed nations rapidly transition to cleaner sources of energy. In particular, the IEA forecasts that the use of oil for transportation fuels will go into decline after 2026 as the expansion of electric vehicles, the growth of biofuels and improving fuel economy reduce consumption.4
Around the world, governments and automakers are focused on selling newer, cleaner electric vehicles. The European Union has the strongest regulatory pressure and shows the highest auto maker ambition to phase out internal combustion engine vehicles. Electric vehicles (EVs) currently make up 16% of passenger car sales globally. S&P Global forecasts that roughly 64% of passenger cars sold in 2030 will be battery electric vehicles and data provider EV-volumes.com expects this share to rise to 68% by 2035.5
The challenge for the United States, and the rest of the world, is making the transition to green energy without prematurely shutting off supplies of oil and natural gas that still power most of the world economy.
Sources:
The International Energy Agency, Oil Market Report, July 2023.

The Wall Street Journal, Big Oil Mulls a Slippery Future, June 23, 2023.

Yahoo, How Biden is Wrong about the Future of Oil, February 16, 2023.

CNBC, BP says Demand for Oil and Gas will Drop Dramatically by 2050 in 'Decisive Shift', January 30, 2023.

The Wall Street Journal, Oil Demand Expected to Peak This Decade as EVs Boom, June 14, 2023.