Current Turmoil in Our Supply Chain
October 5, 2021
By: G. Cook Jordan, Jr. and Lori A. Callaway
The modern supply chain can deliver materials from around the world to companies and customers in days or even hours. Over the years, supply chains have become longer and more complex, while the severity and frequency of disruption is increasing. In recent years, we have seen regional natural disasters, such as the 2011 earthquake and tsunami in Japan, cause global ripples in the supply chain highlighting the weaknesses present in our interconnected global networks.
Natural disasters and extreme weather conditions are not the only threats to supply chains. The supply chain disruptions caused by the COVID-19 pandemic are still flowing through businesses and households, resulting in shortages of key manufacturing components, order backlogs, delivery delays and a spike in transportation costs and consumer prices.
Restarting the global manufacturing machine after continuing pandemic lockdowns has turned out to be difficult. A shortage of shipping containers emerged, shipping rates for certain routes skyrocketed, congestion developed at international ports that then spread to railroads and inland rail terminals, compounding the trucking and chassis shortage that already existed.
COVID-19 highlighted the fragility of the supply chain model in times of stress. Virus outbreaks over the summer at big export hubs in China idled ships for weeks as they waited for terminals to reopen. After the ships sailed, they got stuck again at congested western U.S. ports that could not handle the increased cargo volume. Congestion has been growing at the neighboring ports of Los Angeles and Long Beach, which account for more than a third of all U.S. seaborne imports.(1) Newly arriving ships are adding to a record-breaking backlog, that on September 19th reached 73 ships, waiting in San Pedro Bay to unload cargo, nearly double the number a month ago.(2)
The Southern California gateway is creating a narrow funnel — ocean volumes pour in from Asia and can only flow out at a certain rate due to terminal limitations, as well as limitations of warehouses, trucking and rail beyond the terminal. The Port of Long Beach has broken monthly cargo records in 12 of the last 13 months. Through July, the port processed 5.5 million twenty-foot long containers (TEUs), a 32% increase over the same period last year. The Port of Los Angeles has processed 6.3 million TEUs in 2021.(3)
Container Ships at Anchor in San Pedro Bay and at Berth in Ports of Los Angeles and Long Beach(4)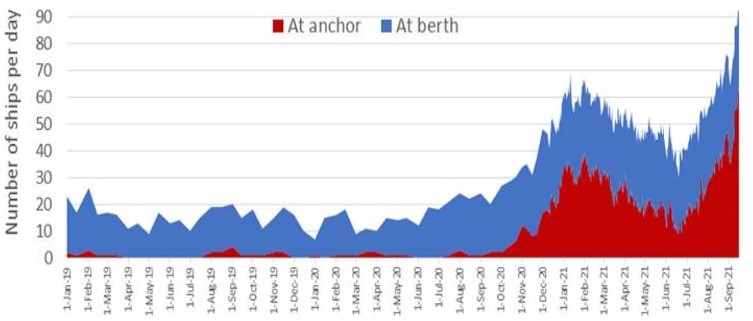 The surge is being driven by Americans shifting their spending away from services, such as restaurants and vacations, to home improvements, office equipment and other consumer goods. Port leaders state that importers are also stocking up on additional inventory after the shortcomings of just-in-time supply chains were exposed in the early weeks of the pandemic.
Hundreds of thousands of containers are stuck aboard container ships waiting for a berth or stacked up at terminals waiting to be moved by truck or rail to inland terminals. The congestion has contributed to a worldwide shortage of shipping containers and to spiraling costs for ocean freight. The logjam prompted the Biden administration to appoint a ports envoy last month to address how to improve cargo movement following complaints from U.S. businesses.
Shipping consolidation over the past five years is also contributing to the delay in movement of cargo across the oceans. The top six container operators control more than 70% of all container capacity, according to maritime data provider Alphaliner.(5) The cost of sending a container from Asia to Europe is about 10 times higher now than in May 2020, while the cost from Shanghai to Los Angeles has grown more than sixfold, according to the Drewry World Container Index. Between 60% to 70% of shipping deals on the Asia-America route are done through spot or short-term contracts.(6)
Spot Rates for Shipping Containers(6)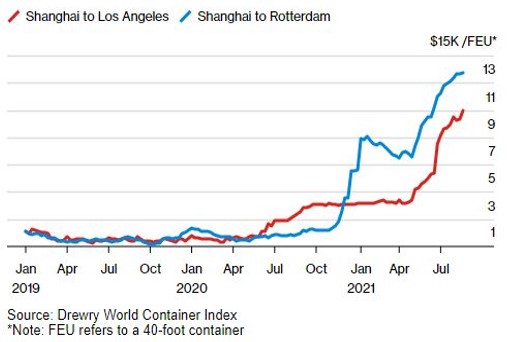 Additional delays in the delivery of key inputs could lead to a decline in manufacturing. This is already happening in several industries, particularly the auto industry, where a semiconductor shortage is forcing a slowdown in production. Toyota Motor plans worldwide production cuts of 40% in September; Ford plans to idle a plant near Kansas City, Missouri, that makes the F-150 pickup truck; and General Motors stopped most of its truck production in North America last month.(7)
Over the last several quarters, critical components for solar energy equipment, including polysilicon, steel, aluminum, semiconductor chips, copper and other metals, have become increasingly supply-constrained. Increasing demand for solar energy, combined with pandemic-related realities (such as increased shipping costs, microchip availability, and a residential home renovation boom) have led to increased commodity prices and delivery delays. Supply chain problems have forced Timken Company to reduce its sales and earnings projections for the second half of 2021. Last year renewable energy (wind and solar) generated 12% of the company's total sales, making it Timken's largest end market.(8)
Many companies are feeling the effects of the disruptions. The third quarter edition of Deloitte's CFO Signals report stated that 44% of CFOs indicated supply disruptions have increased costs by 5% or more this year, while 32% said sales have fallen due to delays or shortages.(9)
In Europe, companies in the U.K. are struggling with record low levels of stock and retail selling prices are rising at the fastest pace since November 2017.(6) Germany's recovery is also under threat. A key measure of business confidence in Europe's largest economy fell by more than economists had predicted with the drop blamed in part on shortages for metals, plastic products and semiconductors, among other goods.
It is hard to see supply chain bottlenecks being resolved any time soon, with some major exporters, including Indonesia and Vietnam, still struggling to contain the delta outbreak. Global supply chain disruption is not expected to end anytime soon. As long as demand continues through the holiday shopping season, COVID-19 outbreaks continue to shut shipping ports around the world, and extreme weather hits individual links in the chain, expect the disruption to persist.
Sources:
(1)  The Wall Street Journal, U.S. Ports See Shipping Logjams Likely Extending Far Into 2022, September 5, 2021.
(2)  The Wall Street Journal, Why Container Ships Can't Sail Around the California Ports Bottleneck, September 21, 2021.
(3)  Supply Chain Dive, LA, Long Beach Port Congestion Could Disrupt $90B in Trade: Russell, September 9, 2021.
(4)  Freight Waves, Record Shattered: 65 Container Ships Stuck Waiting off California, September 16, 2021.
(5)  The Wall Street Journal, Shipping Options Dry Up as Businesses Try to Rebuild from Pandemic, September 12, 2021.
(6)  Bloomberg, The World Economy's Supply Chain Problem Keeps Getting Worse, August 25, 2021.
(7)  Forbes, No End in Sight for the COVID-led Global Supply Chain Disruption, September 3, 2021.
(8)  The Repository, Supply Chain Problems Factor into Timken Decision to Reduce 2021 Projections, September 17, 2021.
(9)  Bloomberg, CFOs Say Supply-Chain Upheaval is Hitting Sales, Raising Costs, September 16, 2021.
©Jordan Knauff & Company 2021.