The Need for Warehousing Space Continues to Grow
December 14, 2022
By: G. Cook Jordan, Jr. and Lori A. Callaway
Warehousing and storage, which was once just a tiny part of the transportation sector, is now an essential part of the supply chain for businesses that deal in physical goods. Warehouses are used by all types of businesses that need to temporarily store products before either dispersing goods to last-mile delivery locations or to end consumers. Large companies are leasing more warehouse and distribution space to hold more inventory as a precaution against rising supply chain costs.1 With over 20,000 warehouses throughout the United States2 and consumers now accustomed to same-day delivery, warehousing and storage is becoming an increasingly important industry in the economy.
Storage and warehousing classify as components of the industrial real estate category, which is forecasted to remain strong even if there is a downturn in the economy.1 The nationwide vacancy rate for industrial real estate was 3.2% in the third quarter, down from 3.8% the same quarter a year ago. The vacancy rate was over 5% in the third quarter of 2020. In southern California, vacancy rates are as low as 0.7%.3 Some retailers are holding goods in shipping containers and on railcars outside their warehouses and stores because of the limited space in distribution centers.
Vacancy Rates for U.S. Industrial Real Estate3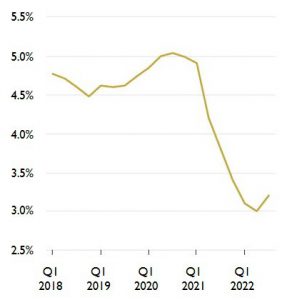 The industry earns much of its revenue from the storage of consumer goods. Therefore, demand for warehousing tends to follow trends in manufacturing output and consumer spending. As manufacturers produce more goods to meet consumer demand, they require greater warehouse space.
Prior to the pandemic, most manufacturers had adopted lean manufacturing in order to keep working capital at a minimum. Receiving goods just in time for manufacturing kept inventory costs down and utilized facilities more efficiently. When the COVID pandemic arrived, this lean strategy left many manufacturers with inventory shortages and in some cases caused production to stop altogether. To prevent future inventory shortages, manufacturers have increased their on hand stock (referred to as buffer stock).
Following strong consumer consumption in early 2022, sustained growth will likely further raise demand for warehousing from manufacturers and retailers as they will require storage for more consumer goods. Consumer spending is anticipated to strengthen, increasing at an annualized rate of 2.4% over the five years to 2027.4
Percent Change in Warehouse Revenue and Consumer Spending4,5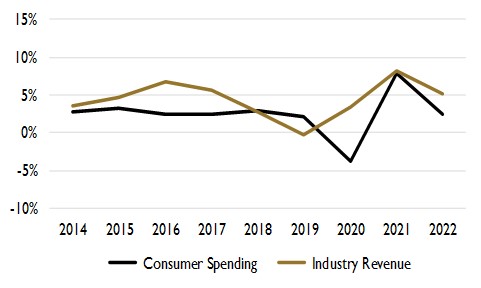 In addition, the growth in e-commerce is also expected to increase demand for third-party warehousing. As online sales channels have enabled businesses with limited or no brick-and-mortar retail presence to market their products to consumers nationwide, many of these businesses have relied on third-party logistics providers for both distribution and warehousing. While the COVID pandemic didn't start the e-commerce boom, it is responsible for the recent surge in demand. As e-commerce sales grow, the amount of inventory that moves in and out of warehousing facilities grows as well. Products sold through online channels require three times more warehouse space than those destined for traditional retailers because they must be individually packaged rather than palletized for bulk shipments.4 IBISWorld expects e-commerce sales to grow at an annualized rate of 8.1% over the next five years.
The recent trend toward the increased outsourcing of logistics operations by bigger businesses is expected to continue over the next five years. Large companies are leasing more warehouse and distribution space to hold more inventory as a check against rising supply chain costs. In addition, companies have opened more warehouses in multiple locations to decrease delivery times. According to a survey from Gartner Inc., in 2021, 66% of logistics leaders increased their logistics outsourcing budget and 74% anticipate an increase in the next two years.4
Finally, rebounding global trade is expected to drive greater demand for warehousing. Foreign manufacturers often require domestic third parties to receive and store products made for the U.S. market. After falling 10.9% in 2020, total trade value is anticipated to increase at an annualized rate of 2.9% between 2022 and 2027.4
Over the last five years, warehousing and storage industry revenue growth is estimated to be an annualized 3.8%, rising to $33.6 billion, including 5.2% growth in 2022. Retailers, wholesalers, and e-commerce businesses were the largest market for warehousing services, generating an estimated 57.7% of industry revenue in 2022. As a result of the above positive trends, warehousing and storage industry revenue is expected to increase at an annualized rate of 2.7% over the next five years, reaching $38.4 billion in 2027.4
General warehousing in the United States has evolved from traditional wharf-side storage sheds to fully automated warehouses. With the global supply chain bottlenecks and disruptions experienced over the past two years, the industry has shifted from a leaner, centralized inventory model, to having more inventory located in multiple locations, to shorten supply chains and increase the speed of last-mile fulfillment.
Sources
CBRE, Thriving U.S. Industrial Market Well Positioned to Withstand Economic Headwinds, May 26, 2022.

U.S. Bureau of Labor Statistics.

The Wall Street Journal, Small Businesses Getting Squeezed Out in Push for Warehouse Space, October 5, 2022. Cushman & Wakefield.

IBISWorld, Public Storage & Warehousing in the U.S., October 2022.

IBISWorld, Consumer Spending, September 19, 2022.
©Jordan Knauff & Company 2022