U.S. Energy Exports are Setting Records
April 5, 2023
By: G. Cook Jordan, Jr. and Lori A. Callaway
Russia is among the world's leading suppliers of crude oil, refined petroleum products, and natural gas. Since the Russian assault on Ukraine began in February 2022, Western nations have sought to limit money funding Russia's war by sanctioning its oil and gas trade. This leaves an opening for the United States, now a leading oil and natural gas supplier, to fill some of the void. As global energy supplies tighten, total U.S. exports of crude oil and refined petroleum products hit record highs.
Exports of U.S. crude oil rose by 22% over 2021 to reach a peak of 3.6 million barrels per day (b/d) last year, as greater demand from Europe offset lower exports to India and China.1 U.S. production of oil rose by 629,000 b/d, or 5.6%, in 2022 to 11.9 million b/d, still off its record high of 12.3 million b/d reached in 2019. However, when this production is combined with 607,000 b/d released from the Strategic Petroleum Reserve last year, overall U.S. crude oil supplied to the market reached 12.5 million b/d, surpassing the 12.4 million b/d supplied in 2019.
South Korea, the Netherlands, the United Kingdom, and Canada were the top destinations for U.S. crude oil. European buyers increased their purchases by 41% over 2021 to substitute for lost Russian supply. Exports to India and China, which purchased cheap Russian oil at a discount, were collectively down 19% on the year.1
The boom can be seen at the Port of Corpus Christi, Texas, which is setting back-to-back records for cargo. Driven by a substantial increase in oil exports, which make up the majority of Corpus Christi's business by weight, the port's exporters shipped 49.6 million tons of cargo in the fourth quarter of 2022 — surpassing a record of 48 million tons set in the third quarter.2
The U.S. exported a record 11.8 million b/d of crude oil and petroleum products in the week ending November 25, 2022, including all seaborne ports and pipeline volumes, according to the U.S. Energy Information Administration. TankerTrackers.com calculates that out of that total, a record setting 7.1 million barrels per day left the United States by sea.3
In December of last year, the Port of Corpus Christi hit an all-time high for crude oil exports, exceeding 70 million barrels in a month for the first time in its history. In 2022, the port accounted for roughly 60% percent of all U.S. crude oil exports. The Port of Corpus Christi has the largest total revenue tonnage in the United States, and ended 2022 with record tonnage, primarily due to a 21% year-over-year (YOY) increase in refined products and 15% YOY increase in total crude oil. Crude oil exports averaged a record 2 million b/d in 2022, an increase over its 2021 record average of 1.76 million b/d.2
In 2021, Russia was the second-largest crude oil and condensates exporting country after Saudi Arabia. At 49%, OECD Europe received most of Russia's exports, while Asia and Oceania received 38%. Russia exported more than 45% of the 10.1 million b/d of crude oil and condensate that it produced in 2021.  China received nearly one-third, or 1.4 million b/d, of Russia's exports.4
2021 Crude Oil and Condensate Exports from Russia4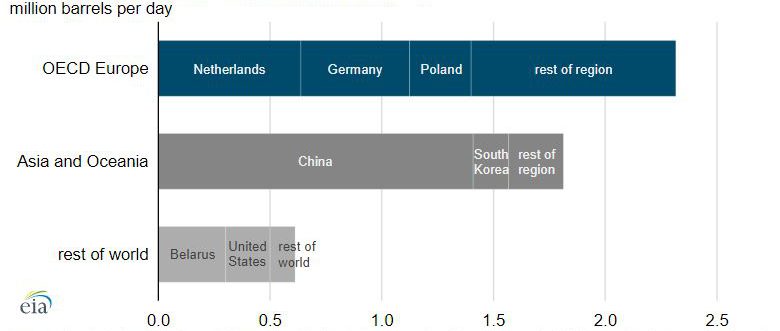 In addition to the record setting crude oil exports in 2022, the United States set a new record for petroleum product exports last year, up 7% over 2021. Petroleum product exports averaged 5.97 million b/d in 2022, driven by an increase of 18% in distillate fuel oil.4 Petroleum products – which do not include crude oil — are produced in refineries and include distillate (diesel fuels and fuel oils), motor fuels (gasoline and jet fuels), naphtha, lubricants and greases, as well as many other products.
Annual U.S. Petroleum Product Exports by Select Types4
(percentage change 2021 to 2022)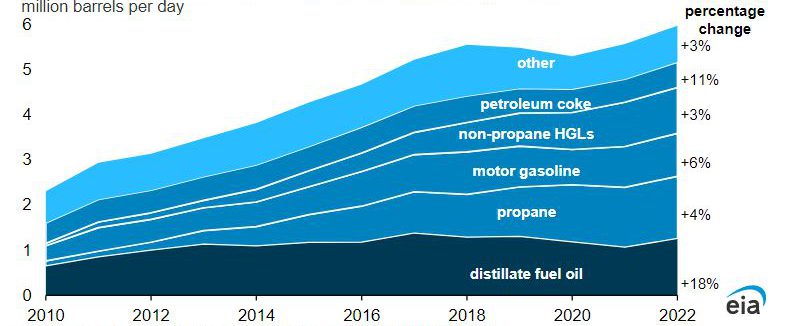 High demand and low inventories globally, along with economic sanctions against Russia and self-sanctioning by some firms after Russia's invasion of Ukraine, have disrupted global distillate trade.4 Self-sanctioning refers to a corporate practice of avoiding trade for fear of getting caught by the limits of Western-backed restrictions.
Prices for petroleum products rose in the second quarter of 2022, encouraging refiners globally to increase production. The high volume of U.S. petroleum product exports in 2022 also reflected longer-term growth trends. U.S. exports of total petroleum products more than doubled to 5.97 million b/d in 2022 from 2.31 million b/d in 2010. Propane was the largest commodity export product by volume in 2022, directed primarily to the Asia Pacific region which accounted for more than half of total U.S. propane exports. Japan received the most U.S. propane exports in 2022. 4
Exports of U.S. crude oil and petroleum products that have been boosted in the aftermath of Russia's invasion of Ukraine will remain elevated this year as Europe and Asia search for supplies. In addition, European Union sanctions implemented in December 2022 that prohibit all seaborne imports of Russia's oil to Europe make it likely that demand for U.S. crude oil will continue in 2023. Therefore, the geopolitical disruptions that occurred in 2022 are likely to continue to affect global trade of crude oil and petroleum products in 2023.
Sources:
1)       Reuters, U.S. crude oil exports hit record high in 2022, EIA data shows, March 15, 2023.
2)       Port of Corpus Christi, Port of Corpus Christi Finishes Fiscal Year 2022 with Record Tonnage, January 23, 2023.
3)       The Maritime Executive, U.S. Sets New Records for Oil Exports as EU Looks for New Supplies, December 5, 2022.
4)       U.S. Energy Information Administration.
©Jordan Knauff & Company 2023