Why Did the U.S. and Canada want the Keystone XL Pipeline?
April 5, 2021
By: G. Cook Jordan, Jr. and Lori A. Callaway
Few domestic policy issues have created more controversy than the Keystone XL pipeline. Proponents contend that it would enhance access to Canadian oil, significantly increasing U.S. and North American energy security. Environmentalists, farmers, ranchers and Native American groups along the proposed route have been fighting the pipeline for much of its history, due to the perceived risks of oil spills, its contribution to climate change, and infringements of treaty rights. Because the pipeline would cross the Canadian-U.S. border, construction requires approval by the U.S. State Department, and ultimately the president.
North America is experiencing a boom in crude oil supply due to growing production in the Canadian oil sands, the recent expansion of shale oil production from the Bakken fields in North Dakota and Montana, as well as the developments of the Eagle Ford and Permian Basins in Texas. The rapid expansion of North American oil production has led to significant challenges in transporting oil efficiently and safely to domestic markets — principally refineries — using the nation's existing pipeline infrastructure.
The Keystone XL pipeline is an expansion of the existing Keystone pipeline that carries Canadian crude into the U.S (see figure). The proposed pipeline would take a more direct route than the existing pipeline, boosting the flow of oil from Canada. Canada already sends 550,000 barrels of oil per day to the U.S. via the existing Keystone pipeline.(1)
The Keystone XL pipeline was first proposed in July 2008 by TC Energy Corporation, then known as TransCanada Corporation, a pipeline company based in Calgary, Alberta, and ConocoPhillips, which was a joint owner until 2009. The expansion was originally conceived when oil prices were at historic highs. The line was eventually expected to transport 830,000 barrels of oil 1,210 miles from the Canadian oil sands to Steele City, Nebraska, where it would link to existing pipelines heading to Gulf Coast refineries.
Proposed Keystone XL Pipeline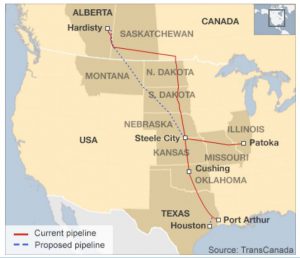 It has been a complicated 12 years since the Keystone XL project was first proposed. President Obama approved the southern leg of the pipeline in 2012. A section running south from Cushing, Oklahoma, to the Gulf of Mexico opened in January 2014. Access to the Gulf Coast provides additional refineries and ports from which the oil can be exported globally.
In 2015, after an outpouring of grassroots activism and advice from the Environmental Protection Agency, President Obama rejected the construction of the northern leg. President Obama said at the time that the project would not:
lower gas prices,
create long-term jobs, or
increase North American energy independence
The decision was reversed by President Trump during his early days in office in 2017. Construction was halted the following year when a Montana U.S. District Judge ruled that the State Department needed to give further consideration to the pipeline's potential for environmental damage. Despite additional court challenges in Montana and Nebraska, President Trump issued a new permit in 2019 allowing construction to proceed without environmental review, bypassing the State Department entirely.
On January 20, 2021, President Joe Biden signed an executive order revoking Trump's presidential permit for the Keystone XL pipeline border crossing. While TC Energy Corporation has suspended work on the project, it has not yet announced what legal options the company will pursue in response to the executive order. The province of Alberta jump started construction of the pipeline last year with a $1.1 billion investment. Given the amount of money invested in the pipeline, it would be surprising to see the company and Alberta fail to at least try to obtain some form of recourse. Canada's Prime Minister, Justin Trudeau, he will keep pushing President Biden for pipeline approval.
Canada ranks third in proven oil reserves, trailing only Venezuela and Saudi Arabia, and the Alberta tar sands comprise 98% of these projected reserves.(2) An estimated 170 billion barrels of oil is thought to be recoverable, which is enough to accommodate anticipated U.S. demand for at least 30 years.(2) Despite the recent push to develop renewable energy sources and move away from fossil fuels, the amount of oil produced in northern Alberta is projected to double by 2030.(1)
As the world's fourth-largest oil exporter, Canada sells almost all of its oil to one customer: the United States.(3) Canada's government and oil industry saw Keystone XL as an important export opportunity for the country. Canada has battled with pipeline bottlenecks that squeezed regional oil prices and forced producers to transport more of their oil south by rail.
The U.S, which has benefited from the rise of its domestic shale oil industry, still gets half of its oil imports from Canada (56% in 2019) because it's cheaper to get it from our next-door neighbor than from Venezuela, OPEC or Russia.(4) In addition, refiners in the Midwest and the Gulf Coast generally use the type of heavy oil that Canada produces. The lack of additional Canadian imports could force refiners to buy more oil from adversarial states.
The U.S. will likely continue to be an important and growing final destination for Canadian oil — if not by the Keystone XL pipeline — most by truck and rail, both avenues being more carbon-intensive means of transport. America's rail capacity, which is also needed for other types of freight, could be stretched, possibly raising the cost of all rail capacity. The amount of crude oil shipped via rail from Canada to the U.S. increased from 7.8 million barrels in 2012 to over 110 million barrels in 2019.(5) It can cost up to three times as much to ship oil by rail than by pipeline.(4) It is projected that without the Keystone XL pipeline, at least 400,000 barrels per day will have to travel by rail.(4)
Market demand for crude oil, not pipeline capacity, determines how much is produced and transported to refineries. Stopping the pipeline's construction will not reduce the production or consumption of the additional market demand.
For more information on G. Cook Jordan, Jr., see his profile.
Sources:
BBC, "Keystone XL Pipeline: Why is it so Disputed?" January 21, 2021.

Harvard Magazine, "The Keystone XL Pipeline, Should the President Approve Construction?" December 2013.

Dow Jones, "What Is the Keystone XL Pipeline and Why Did President Biden Issue an Executive Order to Block It?" January 21, 2021.

Energy Equipment and Infrastructure Alliance, "President Biden's Keystone XL Carbon Footprint," February 16, 2021.

U.S. Energy Information Administration.
©Jordan Knauff & Company 2021