Access Media 3 Acquires Assets from inVision Networks
May 28, 2008
Access Media 3, Inc. (AM3), a "triple-play" digital media services provider to multi-tenant residential, commercial, and multi-use properties, today announced the acquisition of the operating assets and contracts of inVision Networks of Burr Ridge, Illinois. Jordan Knauff & Company, an investment bank with offices in Chicago, Illinois, and Kansas City, Missouri, advised on the acquisition, which brings about 2,000 subscribers in 14 buildings to Access Media 3's customer portfolio and extends the company's reach to more than 10,000 subscribers in 130 buildings in the Midwest.
"We are excited to welcome the inVision subscribers into the Access Media 3 family," said Access Media 3 Chief Executive Officer Scott Rediger. "This acquisition is yet another step toward our goal of becoming one of the largest independent triple-play providers to multi-unit properties. In 17 months, we've grown from 3,000 to 10,000 units. Acquisitions are an important element of our strategy to reach a larger customer base and to offer additional services to those customers."
The Willowbrook, Illinois-based company's rapid growth is due to strong demand in the multi-unit and commercial marketplace for reliable and high-quality media services at fair prices, which Access Media 3's triple-play competitors are not providing, Rediger said. "Local property managers, condo associations, and developers appreciate our flexibility and tell us our service is much better than what they have experienced from large franchised cable operators and national companies in our marketplace," Rediger explained. "Our customers are able to save money while receiving reliable, one-on-one service, rather than being stuck in expensive contracts while experiencing disruptions and poor customer service."
The company's current customers include many of the region's largest and most-respected multi-unit property managers. For these customers and others, Access Media 3 has delivered customized end-to-end solutions designed to meet the unique requirements of each building. This tailored approach allows each property to offer flexible combinations of high-speed internet, TV, and voice services to residents at a reasonable price point.
The purchase of inVision Networks marks the second completed transaction for AM3 in the past nine months. In September 2007, AM3 purchased the satellite assets from Tunnel Vision Technology, Inc. of Chicago, Illinois.
About Access Media 3
Access Media 3, Inc., headquartered in Willowbrook, Illinois, provides triple-play media services (satellite television, high-speed internet, and telephone) to multi-dwelling resident and commercial customers in the Midwest. With a current base of 10,000 subscribers, Access Media 3 is one of the Midwest's largest non-franchised media providers. For more information about Access Media 3, Inc., you can visit www.am3inc.com or contact Scott Rediger at 630-230-0555.
About Jordan Knauff & Company, LLC
Jordan Knauff & Company provides a comprehensive line of investment banking services to private companies of American business. Jordan Knauff & Company specializes in providing mergers and acquisitions advisory, capital formation, and strategic financial services to companies across the U.S. in a variety of industries. Typical transaction sizes range from $10 million to $300 million in total consideration.
To learn more about Jordan Knauff & Company, please visit www.jordanknauff.com or contact G. Cook Jordan, Jr. at cj@jordanknauff.com or 312-254-5901.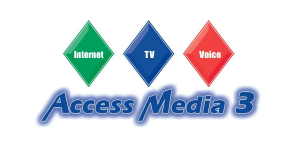 Willowbrook, Illinois
---

Burr Ridge, Illinois
---
The Undersigned represented the Acquirer