Memorable Experiences Group Acquires Kokomo's Family Fun Center
January 10, 2022
Memorable Experiences Group (MEG) has acquired Kokomo's Family Fun Center (Kokomo's). MEG was established by Pareto & Company (Pareto), a Chicago investment sponsor, to pursue opportunities in the fragmented family entertainment center industry. The purchase of Kokomo's represents the initial acquisition for this growing platform. Middle-market investment bank Jordan Knauff & Company (JKC) served as exclusive financial advisor to MEG in the acquisition and capital formation.
Located in Saginaw, Michigan, Kokomo's has been a family and community-oriented business since 1996. The company provides a wide variety of safe and clean family entertainment offerings including go-karts, miniature golf, a driving range, laser tag, batting cages, an arcade with a redemption store, and a cafe. Kokomo's has hosted over 10,000 birthday parties and is a venue for corporate parties, school trips and family reunions.
Founder and Managing Director of Pareto, Mr. Cory P.S. Sandrock, said, "Our acquisition of Kokomo's is the first step of many for MEG and we are excited about growth possibilities across the family entertainment center industry. We plan to invest significantly in the platform through both operational enhancements and further add-on acquisitions."
Commenting on the announcement, Mr. G. Cook Jordan, Jr., Co-founder and Managing Principal of JKC, said, "Kokomo's is a strong start to MEG's family entertainment center platform and we are pleased to be a part of their first acquisition. We are confident in the capabilities of Cory and the MEG team to continue to build on this beginning foundation."
Wintrust Financial provided debt financing for the acquisition.
About Jordan Knauff & Company
Jordan Knauff & Company is a knowledgeable and experienced provider of a comprehensive line of investment banking services to private companies. Our services include selling companies, raising debt and equity capital, acquisition advisory services, and strategic business services to companies in a variety of industries, including among others, business services, energy logistics and distribution, flow control (pumps, valves, filtration), plastic injection molding, healthcare services, and building products and services. Typical transaction sizes range from $10 million to $300 million in total consideration.
Mr. G. Cook Jordan, Jr., Co-founder and Managing Principal, has over 30 years of private equity and investment banking experience, and seven years of executive and operations experience in middle-market companies. JKC's entire professional team have spent their careers in the middle-market and offer that expertise and knowledge to their clients. It is their mission to provide the best available transaction advisory services along with in-depth industry specific research to middle-market companies and the entrepreneurs who lead them. For more information, please visit www.jordanknauff.com. JKC is a member of FINRA.
About Memorable Experiences Group
Memorable Experiences Group is an owner and operator of family and location-based entertainment centers throughout the United States. The company partners with experienced owners and attractions industry leaders to strategically acquire and develop best-in-class entertainment properties as well as enhance local operations by upgrading the guest and employee experience. For more information, please visit www.memorableexperiencesgroup.com.
About Pareto & Company
Pareto & Company is reviving the classic merchant banking approach to not only sourcing and structuring unique private acquisition opportunities for direct investors, but also making its own principal investments and deploying its expertise into each platform. The firm seeks to invest in quality companies led by smart operators, in highly fragmented industries, and with established recurring revenue models. For more information, please visit www.paretoandcompany.com.

Elmhurst, Illinois
a portfolio company of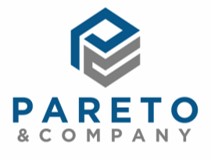 Chicago, Illinois
---
Kokomo's Family Fun Center
Saginaw, Michigan
---
The Undersigned represented the Acquirer