Raise Capital
Capital is a company's most important strategic tool. It is a meaningful component of the long-term success of any business and must be carefully managed because of its impact on shareholder value. In the Middle-Market, capital planning is critical because most Middle-Market enterprises don't have the equivalent access to the capital markets as do larger companies. That represents a significant disadvantage.
Thus, when Middle-Market companies require new capital, it is important to retain knowledgeable and experienced capital raising assistance to ensure that the requirement is satisfied with optimum cost and type of capital. Across the capital structure of a company, be it senior debt, mezzanine debt, or equity, JKC has extensive capital raising expertise in all sections of the Balance Sheet.
Clients Include
Entrepreneurs, partnerships, family owned businesses and private equity portfolio companies
Companies, management teams, or entrepreneurs seeking to:

Make an acquisition or a series of acquisitions
Fund projected growth
Recapitalize or restructure their Balance Sheets
Create a liquidity event for owners or investors
JKC Provides
Optimization of capital structure, cost of capital, and total proceeds available
Important relationships with, and connections to, funding sources resulting from years of working in the capital markets as capital providers
Significant experience in all segments of the Balance Sheet
Why JKC?
Application of our capital raising expertise includes:
Development of a full understanding of the strategic rationale behind the capital need
Analysis of the company's historical and current financials as a foundation for making the decisions of how much and what type of capital best satisfies the capital requirement
Leveraging our extensive network of capital providers by making recommendations to management as to which prospective sources of capital would best fit their needs, financially, culturally, and strategically
Working closely with the management team to prepare them for the challenges inherent to raising capital and advising them through each stage of the capital raising process
Components of the Capital Stack – Snapshot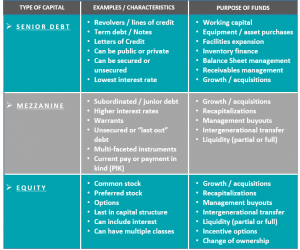 If you would like a JKC Investment Banker to contact you, please visit our confidential Contact Page.